Homes incorporating stone radiate a special type of charm, and the hand-crafted genius that goes into constructing a home featuring stone is one of the reasons that stone features are considered so priceless, and why they are used by luxury home builders all over Melbourne. There is a sense of permanence with utilising stone in your home build, giving the impression of a long-standing history. This sense of permanence is derived from the stone itself, which reflects a history of the earth and old stone architecture. Whilst stone fits well into traditional style homes for this reason, it also works perfectly as an exquisite feature when carefully considered in a modern home. There are a number of different types of stone that can be used in construction, such as granite and bluestone. Most types of stone are able to be used when constructing a rock wall or feature in a new custom home.
Stonework can be incorporated into the architecture within a new home to create stunning walls, floors, pillars and fireplaces that give the home an organic, yet warm feeling. At Rycon we often utilise the natural beauty and character of the stone on front porch piers and accenting fireplaces. Not only does this create character and depth within the home but can accentuate other interior accents as they stand out against the aged appearance of the stonework. Stone has the ability to compliment any style of custom home, from polished, modern interiors to a more classic style home, but it is important to choose the correct type of stone that will suit your styling. To provide continuity within your Custom Home Builders Melbourne, we recommend installing the same stone internally and externally. You can take advantage of the design flexibility of stone, by thoughtfully planning your application. Not only can you select from a wide range of shapes, colours and sizes, but you can also decide how the stonework will be laid. By experimenting and using different variations of stone and applications, you can create the perfect masterpiece to compliment your style.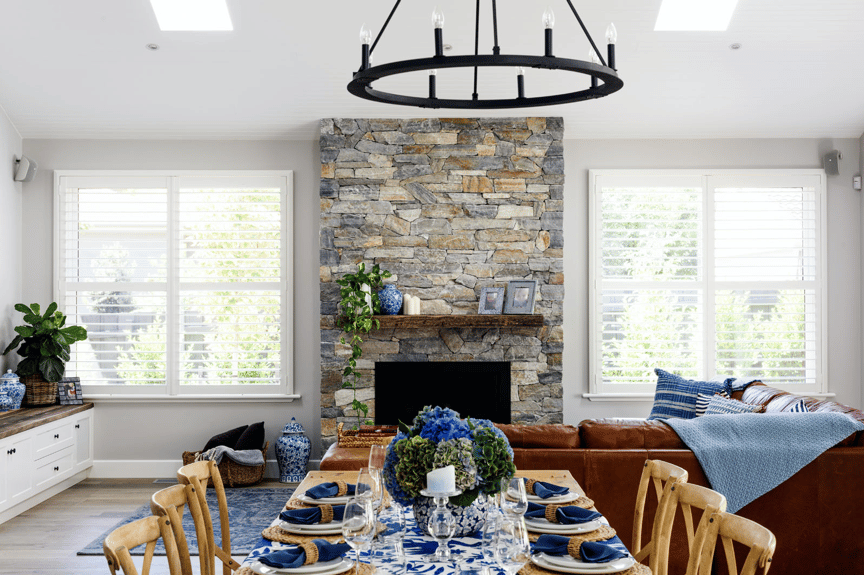 Stonework can also add charm and character to the exterior of a new custom built home. Often entrance ways of Hamptons Style Homes will be adorned with mid-grey, rust and beige Bogong Stone pillars. These pillars look extraordinary against the Hamptons weatherboard, and create the warm welcome these homes are renowned for. Other outdoor areas can benefit from stone wall cladding and features, such as raised garden beds, retaining walls, letterboxes, pool edging, pathways and steps. Landscaping with different rocks and stones not only compliments the nature around the property and adds depth to the design, but will also provide a durable surface in all weather conditions. Little maintenance is required as stone is extremely durable and will not fade or wear away over time. Stone is also fire-resistant, which is why it is often found around fireplaces and BBQ areas.
Stone has been very commonly used historically throughout residential architecture, and is now beginning increasingly popular. More people who are building their own custom homes are choosing to utilise stone in the construction to the incredible impact it has aesthetically. If you would like to learn more about stonework design in your custom built home in Melbourne from our team of expert builders, please contact us here.